WHO WE ARE AND WHAT WE DO
What is EdTechLens?
EdTechLens is an online curriculum developer for grades K-5. Our first product, Rainforest Journey, teaches the life science curriculum through the lens of a trip to the rainforest. Two other programs, now in development, will complete our science offerings.
GENERAL QUESTIONS ABOUT RAINFOREST JOURNEY
What is Rainforest Journey?
Rainforest Journey is a theme-based online life science program for children in grades K-5. Two versions of the program are available. Rainforest Journey for Individual Classrooms includes lessons, chapter reviews, assessments, primary source materials, hands-on activities, classroom management, and data analytics. The Site License version of Rainforest Journey contains lessons and primary source content only.
What grade levels does Rainforest Journey cover?
Rainforest Journey has 6 courses, one for each grade level from K-5. Teachers of Rainforest Journey for Individual Classrooms can create a custom name that does not display grade level.
Is Rainforest Journey standards-aligned?
Yes, Rainforest Journey lessons are aligned with the NGSS (Next Generation Science Standards). Teachers see standards covered as they view each lesson in Rainforest Journey for Individual Classrooms. Hands-on Activities, Assessments, and Chapter Reviews are NGSS-aligned. Additionally, data analytics show student performance on specific NGSS assessment standards. The Site License version of Rainforest Journey does not contain these extra components but all its lesson content is NGSS-aligned.
What tools for teachers are in the program?
Each reading passage shows Lexile score, standards covered, and word count. Additionally, Rainforest Journey for Individual Classrooms includes tools to track student and class grades, progress through the program, to control what contents students access, and teacher resource documents. Teacher resources include Program Planning and Scope & Sequence documents.
Is the program Lexile scored?
The Lexile score of each reading passage is indicated at the bottom of each lesson.
Is there audio narration for non-readers?
Yes, our lessons have an audio feature. Students can click a speaker icon at the end of the text to have the passage read to them.
Can teachers track student usage and progress?
Teachers can track student usage and progress in an easy-to-manage interface only in the Rainforest Journey for Individual Classrooms version.
Click here view an example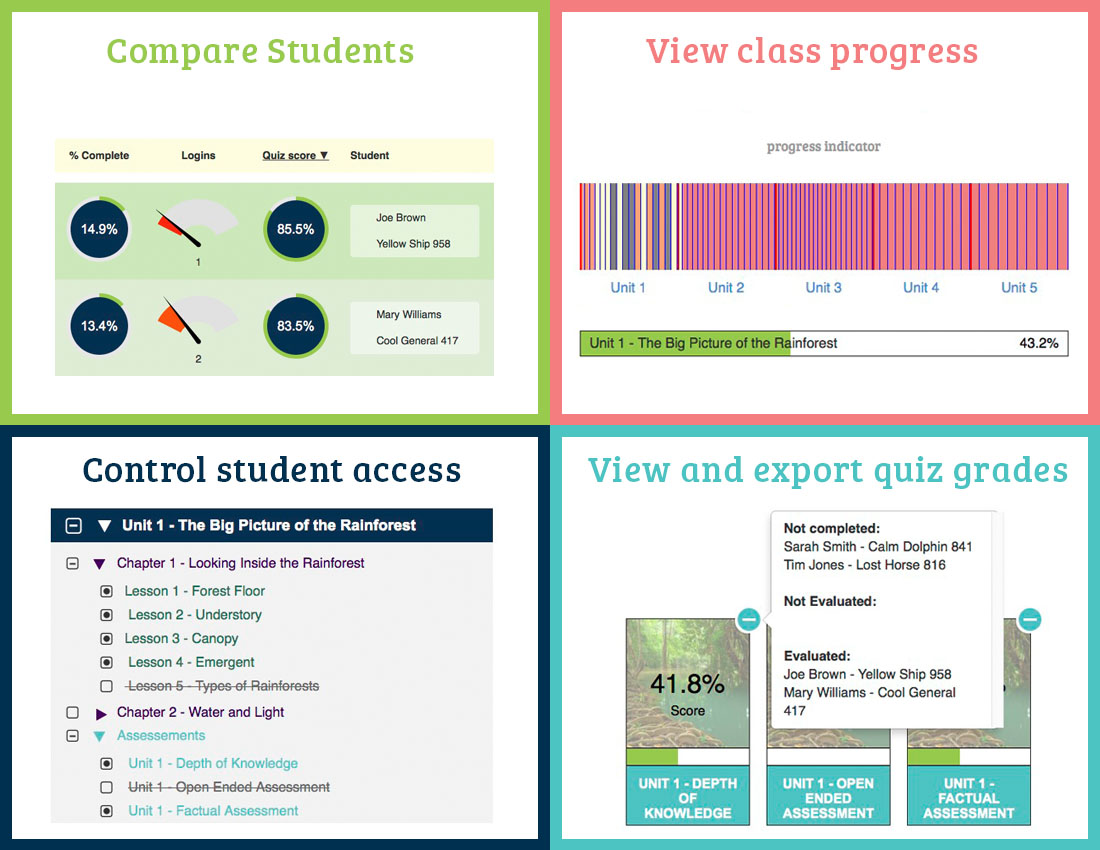 Can teachers export grades?
Teachers using the Rainforest Journey for Individual Classrooms version can export grades and progress reports to spreadsheets.
What about school administrators? Can they track student data?
School administrators using the Rainforest Journey for Individual Classrooms version can retrieve data from the program using their own School Progress interface. Easy-to-use dashboards help track class progress and grades.
Click here view an example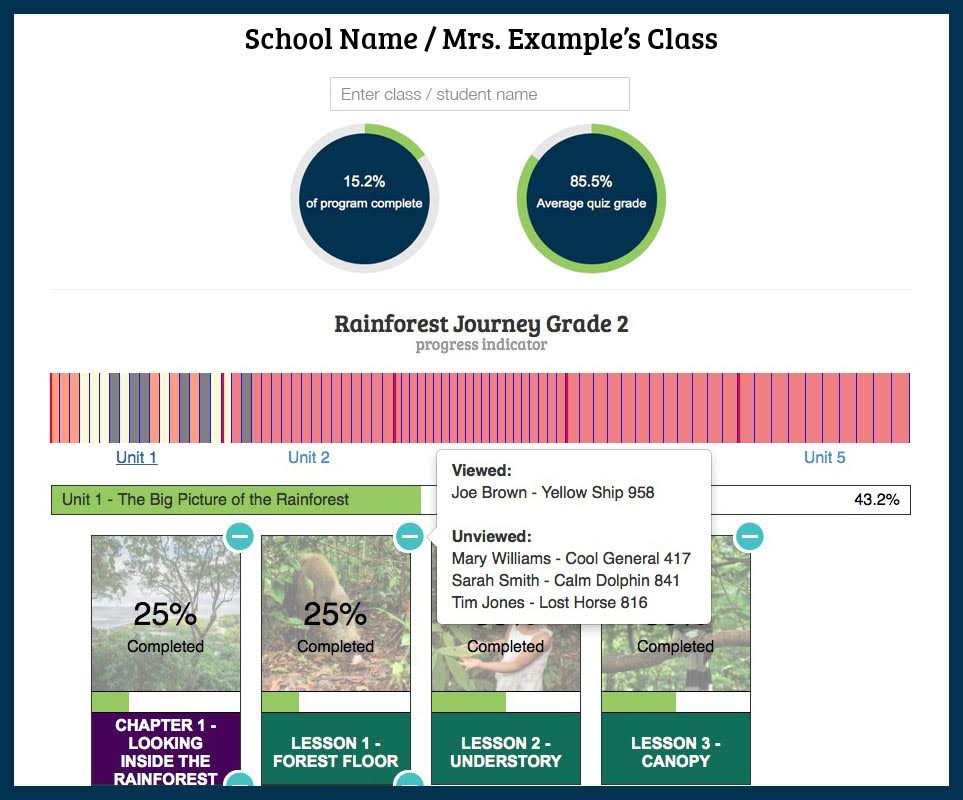 Can Rainforest Journey be used for self-directed learning or does it require adult supervision?
Although many primary-level students likely need adult monitoring, children in the intermediate grades can easily learn to work self-sufficiently in either version of the program. The Individual Classrooms version allows teachers to show / hide content, and choose whether a student progresses through the program in sequential order or not.
What are the requirements to access Rainforest Journey?
You can use any device that connects the internet: desktop computer, digital whiteboard, laptop, tablet, or mobile phone.
What types of assessment are available?
Assessments are only available in the Individual Classrooms version of Rainforest Journey. Summative assessments follow each unit (5 per grade) and include both short- and long-answer questions. Formative assessments follow each chapter (12 per grade) and are mostly open-ended.
Is there a vocabulary section in Rainforest Journey?
Vocabulary words are defined within lesson reading passages in both versions of the program. Additionally, the Individual Classrooms version has a full vocabulary list with definitions at the beginning of each unit.
Has Rainforest Journey undergone efficacy testing?
Yes, a national third-party efficacy test was conducted by
SEG Measurement
in Spring, 2016. Students who used the program showed greater gains in life science knowledge than comparable students who did not use Rainforest Journey. Teachers overwhelmingly agreed that students using the program showed greater levels of engagement and that the program was useful in supporting literacy goals and standards. See the data
here
.
FEATURES AND BENEFITS
Is Rainforest Journey just lessons?
Both versions of Rainforest Journey, Site License and Individual Classrooms, contain the following components:
Lessons
In-lesson links to primary sources
Access to the blog
The Individual Classrooms version contains the following additional components:
Formative assessments
Summative assessments
5E Hands-on Activities
PBL Activities (optional add-on)
Classroom management and data analytics
Teacher resources (Program Planning and Scope & Sequence)
Teacher-student messaging system
Does Rainforest Journey cover the complete life sciences curriculum?
Yes. All life science standards are covered in the program.
How long does it take to complete the Rainforest Journey program?
There are about 30 lessons per grade level and one lesson can usually be completed in a typical class session, especially at the primary grade levels. However, lesson text and media provide rich opportunities for discussion so lessons may run longer. The Individual Classrooms version contains additional content components and, depending on how much of that material teachers choose to cover, it will likely take up to 60 sessions to use all the material within the program.
Is Rainforest Journey just for science?
In addition to science instruction, Rainforest Journey can be used to help meet Common Core ELA requirements. The rich media and rainforest facts contained in the lessons provide ample opportunities for language development. The lessons are also an engaging source of nonfiction reading, and Lexile scores help teachers choose appropriate reading content for their students. Writing assignments in the chapter reviews are aligned with selected ELA standards. 100% of the teachers in efficacy testing* confirmed the program was useful in filling Common Core requirements for reading informational text and in supporting literacy goals.
* see details:
Efficacy Testing Summary
Can Rainforest Journey be used for differentiated learning?
The needs of challenged and special needs learners have been included in the program design. Photorealistic media is used instead of instead of juvenile media so the program appeals to all age levels. Interface design is flexible; a minimum of text appears and extra clicks are required to see more. This keeps challenged learners from being overwhelmed by the amount of print on a page. Lessons have an audio option so learners can listen to reading passages. The grade-level name may be edited in the Individual Classrooms version so that students do not know the grade, should you wish to hide it
Is the Rainforest Journey program and its LMS developmentally appropriate for K-5 students?
Our user interface has been adapted by web developers to meet the unique needs of elementary-school-aged children. The program was designed by educators to be developmentally appropriate in its balance of screen time and teacher/student interactions. Hands-on activities give students concrete experiences to reinforce science concepts learned in lessons.
What makes Rainforest Journey different from other online curriculum programs for children?
It was designed and built for elementary school students.
The design concept is that of a coffee table book for children. Video clips and photographs dominate the pages. A minimal amount of text is revealed; students click icons to see more text.
Rainforest Journey can be successfully used with differentiated learners. The flexible page design allows the program to be effective for emerging readers, accelerated students, and special needs students.
The program uses photorealistic media. This makes it appealing to and effective for older students, who may be challenged learners or English-language learners.
Student engagement is fostered by personal connection. Personal connection components include scientist interviews, a trip journal of a real rainforest journey, and photographs of children in rainforest environments.
Can students access external websites while using Rainforest Journey?
All links within EdTechLens online programs are kept within the program for student users. Our student
blog
links to sources but links are hidden from students when they are logged in.
What accommodation do you make for students reading below grade level?
A minimal amount of text is revealed so students are not overwhelmed. An audio narration option is available for all reading passages. Teachers can also create a custom grade label for their class that does not indicate the course grade level.
PURCHASING OUR CURRICULUM PROGRAMS
Do you have special offers for home users and individual classrooms?
Yes, check our
special offers
page. We also put special offers and discounts in our
newsletter
and on our social media. Social media links are found on the bottom of each web page.
Do you have special offers for schools who wish to license multiple Individual Classroom versions of Rainforest Journey?
Yes. Once a school has licensed 4 or more individual classroom versions of the program, a per-student rate may be used. See rates on our pricing page.  For further questions, contact Steve at
info@edtechlens.com
Do you accept purchase orders in your Store?
We accept purchase orders from schools but not for immediate purchase in the Store. The purchase order must be cleared with Steve at
info@edtechlens.com
, You will then receive a school code that allows you to purchase your course(s) in the EdTechLens store.
Do I have to start a one-year classroom term at the beginning of a school year?
No, but it works best if you do. For example, if you purchased an Individual Classroom of the program in January, your one-year subscription would allow you to access the program until the following December. However, since you would have different students in the following school year, you would not be able to use the classroom management, gradebook, or data analytics features with them. The number of students who can be entered into Classroom Management is capped at the quota chosen at purchase time (35 students for a 1-year subscription and 1 student for a 90-day subscription).
Where can I find help using Rainforest Journey?
Please check our
knowledge base
for help using Rainforest Journey for your home or classroom. If you still need help, please contact our support team
support team
.