Handle with Care: An Unusual Butterfly Journey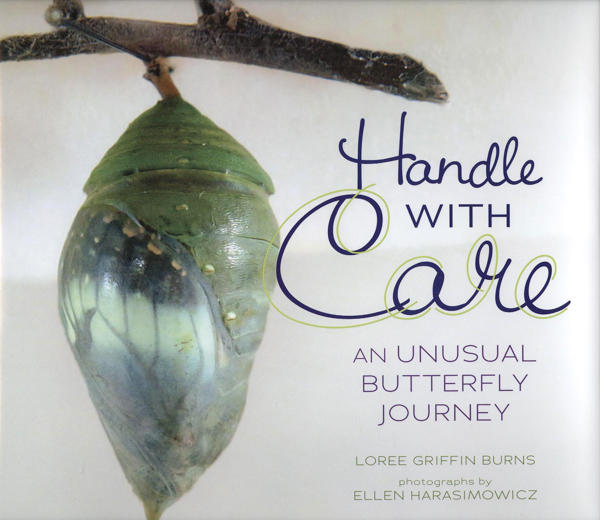 Deep in the Costa Rican rainforest is an unusual kind of farm. It doesn't grow vegetables, grains or animals. It raises insects – blue morpho butterflies to be exact.
In
Handle With Care: An Unusual Butterfly Journey
, Loree Griffin Burns shares the amazing true tale of El Bosque Nuevo, a farm that grows butterflies in greenhouses with screened walls. They ship their "crop" – butterfly pupa – to museums around the world and use proceeds to protect the forest around their farm.
Griffin reveals the steps butterfly farmers take to foster their creatures. They first shepherd adult butterflies onto the farm to lay their eggs, then maintain a sufficient leaf supply to feed the hungry caterpillars, and carefully collect the pupa for shipment.
Handle With Care
shows the remarkable process of butterfly farming while it also explains the metamorphosis process that insects like beetles, dragonflies, flies and of course, butterflies, experience as they grow.
Beautifully composed close-up photographs by Ellen Harasimowicz show the intriguing features of these beautiful creatures and their fascinating journey from egg to butterfly.
Rich details like the sounds of a herd of caterpillars chewing on pea plant leaves and the special packaging required to ship butterflies make this an interesting read for all ages. (School Library Journal designates this as a book for 2
nd
to 4
th
graders). Burns uses the proper entomological terminology but in a way that's understandable for young readers.
The back pages of the book include an index, glossary, additional information about life cycles, "insect words," suggestions for further reading, an author's note, and a website to reference for free educational resources that complement the book.
Loree Griffin Burns is the author of numerous books for young readers including Citizen Science and The Hive Detectives. They are also illustrated by the photographs of Ellen Harasimowicz . Her website has more details: http://loreeburns.com/.