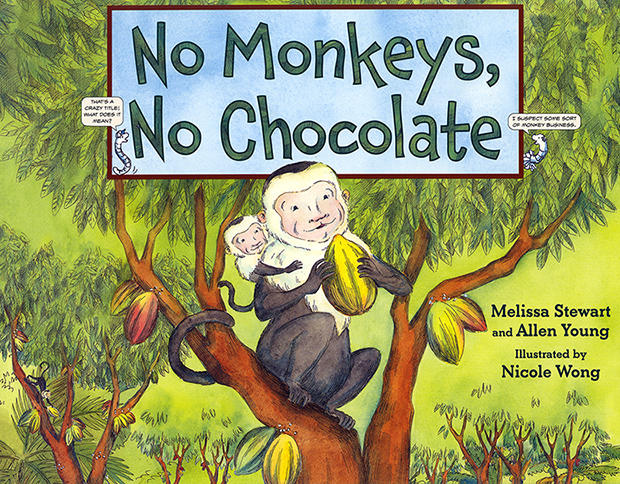 No Monkeys, No Chocolate,
by Melissa Stewart and Allen Young,
offers colorful and entertaining non-fiction entré into many possible science themes, including eco-diversity, interdependence, life cycles, farming, adaptation, and rainforest wildlife.
Stewart's book shows how much help cocoa trees need to survive in the rainforest. Opening with a description of how farmers grow cocoa, the book continues by tracing the trees' life cycle and introducing all the players who have a role in its survival. It beautifully illustrates how pollen-sucking midges, aphid-munching anoles, brain-eating coffin flies, and of course, monkeys make it possible for the trees to reproduce.
It concludes with back matter about the tree, its farmers and new scientific discoveries about environmentally-friendlier cocoa tree agriculture. On each page, a pair of cartoon "bookworms" – one wearing a tutu – offer humorous commentary and a way to keep young and developing readers engaged.

The publisher indicates an age range of five to eight years, but older children and adults will enjoy and learn from this marvelous book. Read more about Melissa Stewart and her science clubhouse at her website.