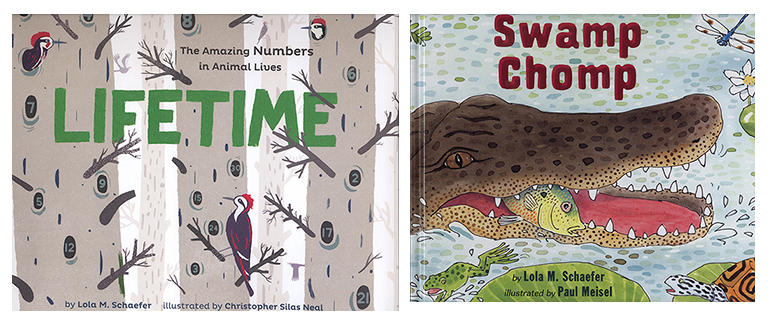 In the course of its life, the average woodpecker will drill 30 roosting holes. A Giant Swallowtail butterfly in its lifetime will visit 900 flowers, sipping nectar. A dolphin will use the same set of 100 teeth throughout its life to catch food from the sea. What will a spider, caribou and alligator do during their time on Earth?
In her book
Lifetime
,
Lola Schaefer
explores the amazing numbers in animal lives. Christopher Silas Neal uses mixed media to illustrate, with each spread showing the creature and exactly what its number looks like. (To fit 1,000 seahorse babies to a spread, each has to be very small!)
Another of Schaefer's books,
Swamp Chomp
, articulates the concept of the food chain for younger children as alligators, turtles and dragonflies hunt for their lunch. Illustrated by Paul Meisel, the cypress swamp that these creatures inhabit is vividly expressed.
Both books bring engaging non-fiction to young readers, and each includes endnotes in the back of the book to provide more in-depth information on the subjects covered. In
Lifetime
's appendix, Schaefer explains how she compiled her numbers, why she loves math, and also provides a "bio" on each animal that older children will enjoy. The endnote included in
Swamp Chomp
conveys a brief life sciences lesson on swamps and food chains for the younger set.
These delightful books are a great addition to any educator's toolbox or any child's bedtime story collection.