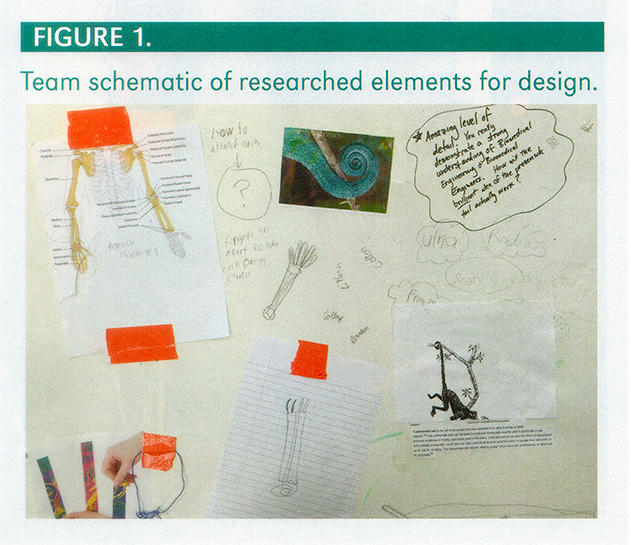 3D printing is moving into the classroom and the world in a number of ways of interest to educators and their students. Here are some recent articles.
Creating a Prosthetic Hand 3D Printers: Innovate and Inspire a Maker Movement
By Kirsten Leigh Cook, Sarah B. Bush, and Richard Cox
Science & Children
December 2015
One of the more inspiring and instructive articles we have read this year: An account of how a classroom of fourth graders worked in a STEAM (Science, Technology, Engineering, Arts and Mathematics) lab to design and create a prosthetic hand for a student in their district born without a hand. The student's disability made it impossible for her to press the Control + Alt + Delete keys together, which inhabit opposite ends of the keyboard.
As part of their research, students found out that wasn't the only thing difficult for her to do. It's a story of engineering meeting empathy, as the students inventoried their own school grounds and learned how challenging it is to do things like open doors and use the restroom with only one hand. With a vivid sense of the importance of their task, they continued in subsequent weeks through five more phases: guided research, creating blueprints, building the prototype, public relations and finalizing the design. The product of their six-week project was a flexible and attachable prosthetic that allowed the student to strike Ctrl + Alt + Delete without assistance.
The article, which costs .99 to download (free to NSTA members), provides all the details an educator would need to understand how to recreate this experience for her own students, including mapping activities to NGSS standards. You can find more information
here
.
Another
article
, this one from Educational Technology and Mobile Learning, lists the ways in which 3D printing can enhance learning
A film from PBS Digital depicts 3D printers in action:
Will 3D Printing Change the World?
The
WREX
(Wilmington Robotic Exoskeleton) device, fashioned from the same plastic materials as lego bricks, allows a little girl with a congenital condition to use her arms for the first time.
Read about her "magic arms"
and watch the video about the process.
A
piece on Techcrunch.com
sees the education industry exerting influence on the progress of 3D printing and software development.
Useful apps to use with students:
Zotebook.io
allows the user to draw their own designs and see them converted into models ready for 3D or laser printing.
Using a free Android app,
Dr. Fluff's Robot Factory
, children can create 3D models of robots, working with images on screens and then see their results. If a teacher does not have access to a 3D printer, student models can be sent to a printing service and the final creation will arrive in the mail, formed in the material of choice: plastic, ceramic, or precious metals.
We hope this gives you a start on understanding the power of 3D printing.