Citizen Science in the K-5 Classroom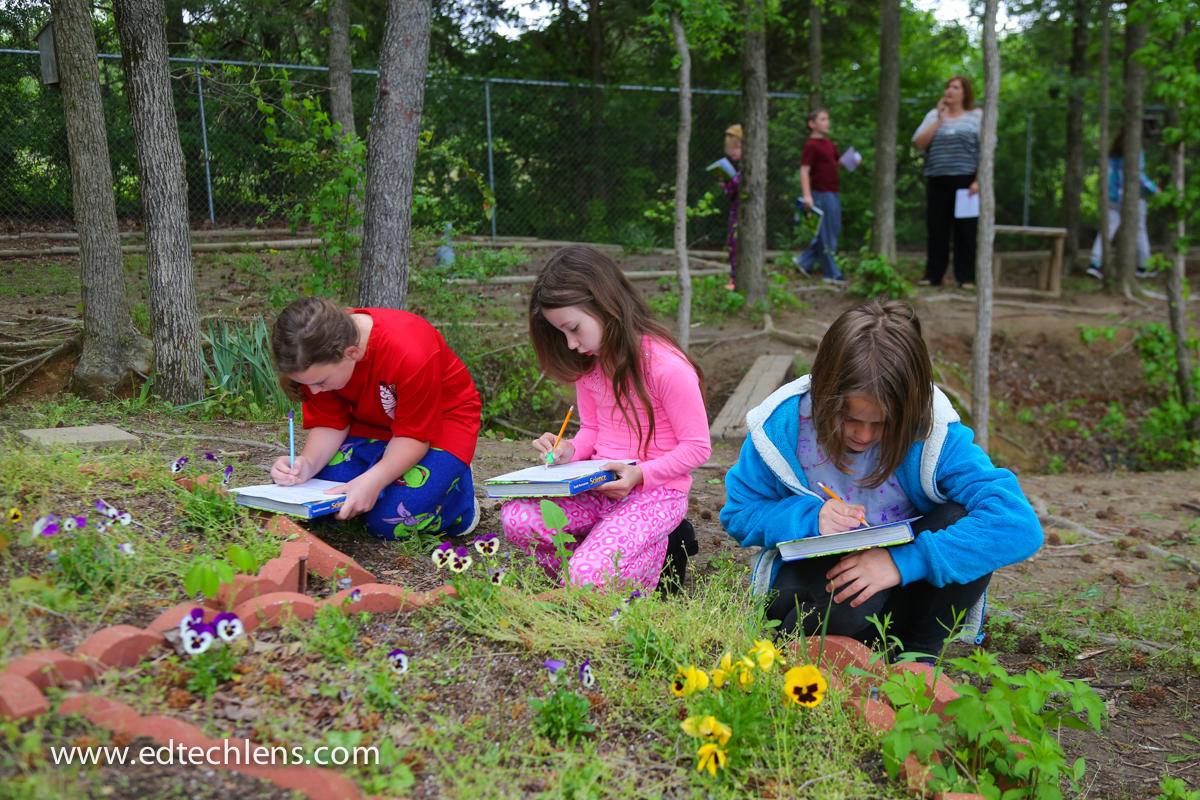 Fourth-grade participants in NASA's S'COOL (
Students' Cloud Observations On-Line
) program have a little extra incentive to do their best work. As one member of the class put it, "NASA is depending on us!"
Working with S'COOL, students are involved in real science, collecting data about the sky and clouds that NASA scientists use to validate data collected by NASA's CERES satellite instruments. Participants check the S'COOL website to find out when a satellite is passing over and time their observations to coincide.
The program's director, Lin Chambers, says students and teachers who participate in the S'COOL program are gathering valuable data that helps further important scientific research into how clouds affect our climate. Chambers work is primarily in the area of understanding and interpreting CERES's measurements. "This is a very interesting and challenging problem," she says, "because satellites are looking down at the variable surface of the Earth and don't always identify clouds accurately."
The real-world value of the work students do for NASA is part of what makes S'COOL – and other citizen science projects – so effective in the classroom. "Teachers tell me that kids not normally engaged in school often become more interested in science in the process of working on this project," Chambers says.
Developing Scientific Habits of Mind
Citizen science, in which trained volunteers help scientific researchers answer real-world questions, helps students see how science is relevant to their lives. It builds inquiry skills, critical thinking skills and makes for great discussion topics. It's a natural way to approach project-based learning initiatives and to help students begin to see themselves as scientists.
With data analytics becoming more advanced, hundreds of organizations are offering all kinds of citizen science opportunities. (Click here to see more [insert link to second article on the blog])
Many, like S'COOL, provide support materials for teachers and tips for incorporating participation into the classroom.
Celebrate Urban Birds
, a citizen science project that reaches diverse urban audiences who don't already participate in science or scientific investigation, offers ideas for broadening the learning about birds into the arts, gardening, and wellness. And the
Project Mash Toolkit
includes a suite of resources that teachers can use to better manage their class's participation in a citizen science project.
Science and Exploration Are Natural Partners
Gregg Treinish founded
Adventurers and Scientists for Conservation (ASC)
to connect explorers like himself with scientists who need data collected from hard-to-reach corners of the world. He says the
ASC Microplastics Project
is a great way for younger explorers to participate. Paddlers, sailors, surfers, swimmers or anyone who likes to hike near water can collect samples to help researchers study the sources, composition and distribution of microplastics pollution in oceans, rivers and lakes worldwide.
Treinish had his challenges when he was a student (he was kicked out of school when he was 16), but he still remembers his third grade science teacher, Mr. Evans, whose classroom model of the solar system sparked Treinish's imagination. He thinks science and exploration are great sources of motivation and wonder for students who struggled like he did. And exploration is not easy, so it provides important challenges that help in developing perseverance. "For kids to be motivated and to have the opportunity to explore – whether in the backyard, on a hike by the river or via the scientific method – it builds so much resilience for life," he says.
About Lin Chambers
Trained as an engineer, Chambers works as an atmospheric scientist at NASA's Langley Research Center. She also spends a great deal of time on education and outreach. Her primary job is serving as a member of the CERES science team. CERES, which stands for "Clouds and the Earth's Radiant Energy System," is an instrument onboard NASA satellites that's used to study the effects clouds have on the Earth's climate. In her non-S'COOL time, she directs the related MY NASA DATA project and also contributes to the GLOBE Program.
About Gregg Treinish
Treinish is the founder of Adventurers and Scientists for Conservation (ASC), an organization that mobilizes the outdoor community to gather and share scientific data. National Geographic named him Adventurer of the Year in 2008, when he and a friend completed a 7,800-mile trek along the spine of the Andes Mountain Range. He was included on the Christian Science Monitor's 30 under 30 list in 2012, and the following year became a National Geographic Emerging Explorer for his work with ASC. In 2013, he was named a Backpacker Magazine "hero," and in 2015, a Draper Richards Kaplan Entrepreneur. Treinish holds a biology degree from Montana State University and a sociology degree from CU-Boulder. He thru-hiked the Appalachian Trail in 2004.