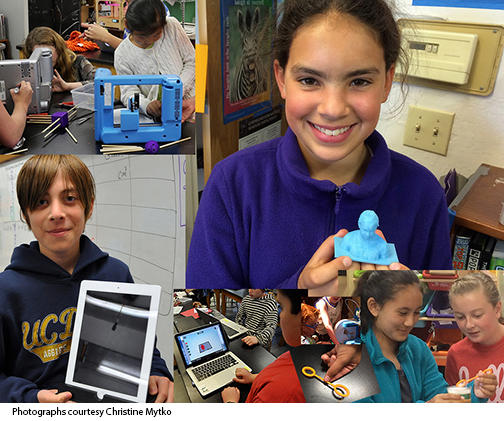 Science teacher Christine Mytko had an epiphany when she interned with the Berkeley National Laboratory's Advanced Light Source last year: "Everything scientists do now is in 3D, but in school we do everything in 2D," she says.
Mytko had begun dabbling in CAD and 3D printing in the classroom in 2013 but with this new perspective she realized that the educational value of the technology is really about introducing students to 3D modeling.
"This is the way scientists think and work and bring projects to life, so I wanted to help young students – hopefully future scientists – learn how to work spatially and get their bearings in 3D," she says.
New Territory to Explore
Three-D printing is a brand new frontier in the classroom, and Mytko and her students have been intrepid pioneers. Working with a completely new and unperfected technology is a useful tool for lessons in perseverance, she says. "It's a great way for students to learn how to endure adversity and persist in solving problems."
Her student, sixth grader Cole Compton, spent weeks trying to print the iPad stand he designed. His six attempts are detailed
here
. Tinkering with the machine through each iteration, he's learned to finesse the technology – and how to creatively design printer modifications using binder clips and duct tape.
Good for Independent Projects
Mytko says the flipside of the positive lessons in perseverance is the fact that the technology is very time consuming. "You have to go into this understanding that there are limitations to the machine, and you have to decide if it's worth spending all that time," she says.
Her approach was to roll the printer out to the full classroom via an intro-to-3D-printing segment. Students who had strong interest in spending more time working with the machine joined her for extra-curricular Maker Club meetings to work on independent projects with the printer outside the classroom.
For the K-5 Set
Troubleshooting and repairing a high tech machine is generally an activity better suited for middle-schoolers, but Mytko says the 3D printer opens up some nifty opportunities for younger students too.
"Younger kids can do a drawing and have older kids – say fourth or fifth graders – use TinkerCad to turn it into a 3D model. That way both groups of students are learning how to move from 2D to 3D," she says.
Another idea is for students to
design their own insects
, an activity devised by
Clark Barnett
, a K-5 teacher at Lang Ranch Elementary in Thousand Oaks, California. "He has students design three body parts and six legs and design the habitat their insect would live in. We used to do these things with pipe cleaners and glue, but the level of detail students learn to work with using 3D modeling is much greater, and that's how real scientists work."

Bringing Abstractions to Life
Pointing to all the multi-syllabic latinate language of science, Mytko says 3D printers make it possible to produce models kids can see, touch and feel. The Smithsonian, National Institutes of Health and NASA all have
3D model databases
from which you can download for free.
A story Mytko heard on the radio show Radiolab inspired another idea. The story was about the ancient skull of a Taung child found in a cave and how it led scientists to clues about early humans. "The producers included a file of the
scan of the skull
that we could print. Having a model students could touch and hold while learning made the lessons more concrete," she says.
She also points out that museums have less than 10% of their collection out on the floor – and the fact that field trips are expensive. "Three-D modeling and printing means we may be able to re-create the museum experience in the classroom," she says.

The Maker Mentality
The maker community is characterized by norms of sharing, collaboration, creativity and experimentation, values many educators want to instill in their students. That passion for making is where Mytko sees the real power of 3D modeling "when kids are designing what they need. If you want something, don't buy it: Design it!" she says.
About Christine Mytko: A seventh- and eighth-grade science teacher, Mytko is also a strong supporter of the maker movement in schools. She teaches at Black Pine Circle School in Berkeley. She and her students are frequent presenters at edtech conferences, local Bay Area science festivals, and maker faires. She has twice won the Exploratorium's Iron Science Teacher competition and spent two summers working with scientists at the Advanced Light Source (ALS) at Lawrence Berkeley National Laboratory, helping to develop their science outreach program. As a result of her 3D-related ALS and maker work, Mytko was invited to represent Black Pine Circle School at the first-ever White House Maker Faire in June 2014. She writes about 3D printing and guiding student makers on her "Tales of a 3D Printer" blog.