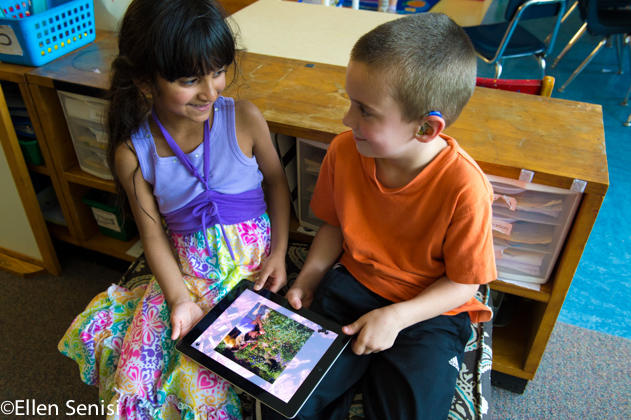 The Appropriate Use of Ed Tech for Young Learners

Lilla Dale McManis says it's understandable that teachers of young children might resist the use of ed tech in their classrooms. "They may feel using technology of any kind is not developmentally appropriate for young children, and are primarily concerned that time with technology will take away from activities they see as more important, social interaction in particular," she says.

In fact, as McManis explains in this
article
, research shows that when using computers, children share and help one another and work together to solve problems. Appropriate computer use can actually increase children's social and cognitive skills.
Common Mistakes Educators Make when Employing Ed Tech

But achieving that effect requires applying ed tech appropriately. McManis, a psychologist, child developmentalist, educator, and parent says, "I think the number one mistake is not really thinking through the goals and objectives for using technology. Everything we do with children in an educational setting, no matter their age and no matter the instructional tool, should be done for a purpose."

A related error is jumping to ed tech tool selection without investing time and thought into determining how technology fits into the curricula and the classroom environment. She says that "thanks to mobile technology, particularly tablets, the days of the computer lab are hopefully over, where children used ed tech in a manner very isolated from a rich, multi-faceted learning experience."

Also, not keeping in mind that you get what you pay for can lead educators to waste education time on an app that doesn't support learning. McManis sees the appeal of a free tool but points out that quality is usually lower with these options.

"Finally," she says, "instituting limits that are based on time, not activity," is another mistake. "A child could be in the middle of a very effective learning session, and having to stop because she's used her allotted 20 minutes interrupts this."

Administrators can help educators increase their knowledge and avoid common mistakes by supporting and encouraging teachers to work together and share effective tactics and strategies.

How Adults Can Make Sure Ed Tech Serves Students' Learning

McManis says her first question when considering a particular educational technology is, "Where's the beef?", where "beef" represents educational value. "First, we have to be critical consumers," she says. "People who are great at design can develop a beautiful interface, but without an educational background, or an understanding of childhood development and pedagogy, they're not likely to develop something that's actually educational." To begin to winnow down the thousands of options, start by looking at the credibility of the development team.

And she points out that tens of thousands of apps in Apple's and Google's stores may be assigned to the "education" category but not because they've been assessed to be educational. It can take years of research to determine the efficacy of an educational tool and there's no oversight in the stores to ensure that these apps are indeed educational.

Reviews are not necessarily a reliable source either, according to McManis. "Ballard & Associates found that only 25% of top sellers in the education category showed any indication of being created by people who understand education," she says. "Rather than look at what's in the top 10, first think about what you want to accomplish."

Ed Tech Evaluation Tool

McManis (with Jenne Parks) has developed an early childhood educational technology evaluation form that can help. (Click
here
, download the PDF and scroll down to page 18.) The one-page form provides a framework for thoughtfully and systematically assessing an ed tech tool and assigning a score that allows easier comparison of various options. It's also intended to serve as a structure for considering the bigger picture of ed tech in the classroom and facilitating dialogue among educators.
The Ultimate Goal: Guiding Students to Using Technology for Their Own Purposes

McManis believes very firmly that for young children, especially those who may be coming to the educational experience with less knowledge, using ed tech to teach those critical foundation skills is essential. Ed tech, especially through learning software that allows individualized instruction, is very well suited to the task.

Critics call content intended to teach foundation skills "low hanging fruit," since it usually involves the kind of basic drills educators often want to skip over. Students who arrive to kindergarten with good skills in place may not need these sorts of drills, but McManis urges, "For those students not having these foundational skills, using ed tech to work on really basic skills is appropriate."

But, she says, "Going on, we don't want to stop at basic skills for any child. We want to use ed tech for encouraging students to continue up
Bloom's taxonomy
. We want kids – and even young children can do this – to use technology for their own purposes. We want them to create and be actively in charge of their learning experience, and to have fun. This is powerful for children."
The value of using ed tech with young learners may still be debatable for some, but McManis believes its worth is borne out in the research (which is detailed in this
article
she co-authored with Susan B. Gunnewig in the National Association for the Education of Young Children's (NAEYC) journal Young Children and available on their website).
In closing, she says, "I like to go back to [developmental psychologist] Lev Vygotsky's position that a main responsibility of adults is to ensure children are competent users of the tools of their society. In our society today, that's technology."

For more information, see the EdTechLens
blog
for the resources McManis recommends for evaluating ed tech and determining how it best serves young children's education.
About Lilla Dale McManis: As former research director for Hatch Early Learning in Winston-Salem, North Carolina and currently President of Early Childhood Research Solutions in Austin, Texas, McManis, a Ph.D., conducts research in education technology for early learners. Previously a teacher and teacher educator, she now focuses on understanding learning environments and positive outcomes for young children. You can reach her at ldmcmanis@earlychildhoodresearchsolutions.com.